"WHO GOES CAMPING WITHOUT SALVE!?"
"Yeah, that's a flaw."


This article has one or more sections that needs to be added/completed. Adding more information will be greatly appreciated!

"The Enchanted Forest Ranger" is an episode that premiered on May 14, 2016 with "Dr. Jingleheimer" on Disney XD.[2]
It is the sixty-eightth episode in the series.
Synopsis
Grumpy is determined to earn a Dragon Scout badge, but he must first deal with the rule-crazed Enchanted Forest Ranger.[3]
Plot
"We're Working on It!"


This section of the article is coming soon or undergoing development. Thank you for your patience!

Running Gags
Dirk Dumphrey scolding the 7D with their constant "violations".
Sneezy's skin allergies getting worse.
Trivia
This episode marks the first time Queen Delightful makes a brief cameo in this episode as well as "Dr. Jingleheimer" together.
This is the second time Grumpy ignores his friends' complaints, the first being "Oh Happy Grumpy" and "Funniest Haircut Day".
Both Sleepy and Bashful were thought to be females by Dirk Dumphrey, when he calls Sleepy "madam" to calm down, Bashful then questions it, for then Dirk to call him "sweetie", then Sleepy questions it.
This is the second time the Glooms did not appear in both episodes as of "Giggleberries" and "Jollyball Anyone?", together.
This is one of the episodes where the Glooms did not appear.
Happy is shown singing the "Most Annoying Song Ever" in the beginning of this episode. Later in the middle of its paired episode, it is shown that he sang the same song along with the other members (except Doc), implying that this episode chronologically took place after "Dr. Jingleheimer".
Most antagonists from Season 1 appeared towards the end of the episode.
This is one of the few episodes that a minor character serves as an antagonist of the episode, instead of the Glooms.
Goofs
During the episode's opening, the stripes of Sneezy's left sleeve does not match with the (correct) stripes of his right.
In this shot, the inner bottom stripe of Sneezy's sweater is colored red instead of blue.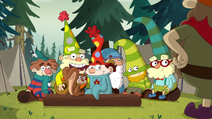 The establishing shot shows Sneezy fishing with the rest of the 7D, but when Dirk returns Sneezy isn't there.
When Dopey peeks through the ranger station's window, Grumpy is shown in his regular clothes instead of his Dragon Scouts uniform, and Sneezy is in his regular appearance instead of his puffy body.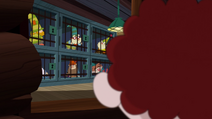 Characters
International Premieres
August 20, 2016 -- (Disney Channel Asia)
References