"Heigh-Ho!"


Good job! This article is complete, meaning that everything's in place.

| | | |
| --- | --- | --- |
| " | Narrator: This fella's so sleepy, he can't finish a dream without nodding off. When the Sandman visits him, he brings a dump truck. His snores are so loud, they frightened thunder. Sheep count him to go to sleep. Meet Sleepy. | " |
| | | |
| --- | --- | --- |
| " | Sleepy: (yawning) Hi there. (snores) | " |
—From The 7D Mine Train app
Sleepy is one of the seven dwarfs who help protect Jollywood in The 7D. He's always sleepy, but never lazy. He is voiced by Stephen Stanton.
Physical appearance
Sleepy is short and has light yellow skin, a pure white beard, black eyes, and an L-shaped peach nose. Sleepy's everyday attire consists of a long blue striped nightcap with a purple line, blue striped pajamas, and gray shoes.
In his prototype appearance, he had less stripes and his hat's point was more sharper.
In "Once in a Purple Moon", Sleepy changes form when the moon turned rainbow. Due to the moon having the color yellow, he changes from his usual sleepy self into a caffeine induced always awake dwarf. The only differences is the visible red bow, his nightgown is unbuttoned to reveal a white blue inner shirt, and his hat is more straight and pointing upwards to equal his always awake persona.
Personality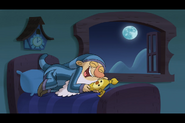 Sleepy is frequently tired and is sometimes seen sleeping with his plush, Mr. Hicklepips. Because of this, he's slightly useless in situations his fellow dwarfs face, but in a few occasions he has managed to save the day. In his spotlight episode, "Sleepytime," a sleeping spell cast by Hildy over Jollywood has no effect on him (he was already sleeping at the time). Sleepy, along with Sir Yipsalot, were the only characters awake in Jollywood. They learn that by sundown the spell will be broken by shouting for everyone to stop snoozing atop Mount Jollymanjaro or they'll sleep forever. A few times Sleepy struggled to concentrate on his journey with Sir Yipsalot, but inspiration from his fellow dwarfs helped him. In the end, everyone woke up and Sleepy along with Sir Yipsalot got awarded for saving the kingdom.
"Gnome Alone" finds Sleepy being accidentally left behind by The 7D when the Glooms tricked them into a vacation to steal the Royal Ruby from their mine. Having overslept, he thinks he's late for work and doesn't realize that the rest of the dwarfs are gone. The Glooms got their hands on the ruby down at the mine and are on their way to Queen Delightful's castle to seize her throne. But Sleepy is able to stop them on his own by snatching Grim's wand along with the Royal Ruby and using the wand to send them away. The Queen then throws a celebration at her castle for Sleepy.
Sleepy loves his Mr. Hicklepips so much that he'll go crazy without him, as shown in "Nicely Done and The 7D" after his plush was seized by the episode's villains.
In "Once in a Purple Moon", Sleepy's usual sleepy demeanor is changed when the rainbow moon appears. Due to it having a shade of yellow, he becomes the complete opposite of his personality.
Quotes
"Winkers!"
"High four, Sneeze-man!" ("The Jollywood Jam") but it was "Sneeze-man, high four!" in "The Littlest Giants")
"The nightmare is over." ("7 Frogs", after being kissed by Princess Prettyhead to change him back from being a frog)
"He's probably asleep by now." (referring to Grumpy in "Sneezin' Season", when the dwarfs wanted him to return after they determined his beard is not the cause of Sneezy's extreme allergies)
"Give me a wake up call at noon." ("Let's Get Organ-ized", when The 7D start up their day at 7 a.m.)
"Did I fall asleep in the road again?" ("The Littlest Giants", when Sneezy comes to his rescue whilst fleeing the rampaging 'giant')
"As soon as we go to sleep this nightmare will be over." ("The Enchanted Forest Ranger" after several visits from the ranger.)
Trivia
Sleepy has undergone two changes change in his design:

Less stripes on his hat and bedwear
Hat's point is more rounded

In "Once in a Purple Moon", Sleepy changes form when the moon is yellow.
Sleepy became a Dragon Scout First Class at the age of ten. ("The Enchanted Forest Ranger")
He appeared in the title cards only three times.
He and Grumpy are the only members of the 7D who rang the Bing-Bong Bell.
He seems to be Sneezy's best friend.
He and Bashful are the only members of the 7D to not have their childhood memories shown.
He is the least focused member of the 7D, with only four episodes about him ("Gnome Alone", "Sleepytime", "In Yer Dreams, Pal", "Bedknobs and Gloomsticks").
While his hair color is white, it is possible that his hair color has always been white since younger.