"Heigh-Ho!"


Good job! This article is complete, meaning that everything's in place.

Sir Yipsalot is Queen Delightful's pet dog and faithful companion. He gets his name because he always yips. However, in "Hildyrella" he is shown being capable speaking in English (by saying "You think?"), which surprises Delightful. Sir Yipsalot's favorite snack are dill pickles. In "Sir Yipsalot and the Mutt", it's revealed that there's a female stray dog that looks like him, and together they are involved in a mix-up.
Appearance
Sir Yipsalot has an abundance of all-white fur that covers his eyes (in some episodes, his eyes are shown black) and he has a black nose. His golden crown is engraved with a shape of a bone.
Personality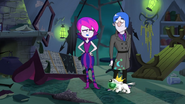 Although Sir Yipsalot gets along with pretty much anyone, there are a few times he misbehaves. In "The Delightful Diamond Mystery", his fetching lessons with Queen Delightful leads him to swipe many items around the castle—including the titular diamond that had went missing—and placed them all in Lord Starchbottom's bedroom. In "Sir Yipsalot and the Goose", after being kidnapped by Grim and Hildy Sir Yipsalot causes damage throughout their house. Queen Delightful even mentions that her dog behaves like that when he's in the wrong hands.
Also, it's shown in "Sir Yipsalot and the Mutt" that Sir Yipsalot's getting tired of being pampered because of his royalty, so he wants Delightful to let him be an average dog, and she allows him to do so at the end.