Under Construction
This article is a stub. You can help The 7D Wiki by expanding it when more information becomes available.
Jolly Bees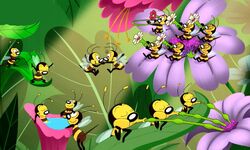 Jolly Bees, as they appeared in "They Growl By Night"
Character Information
Relationships
Jolly Bees are bees that appeared in the episode "They Growl By Night".[1] They produced the royal honey for Queen Delightful. One night the honey went missing from the castle courtyard, and one of the bees alerted the Queen and the 7D to find the culprit.
Trivia
Jolly bees is a pun of the popular Philippine-fast food chain.
References