"Heigh-Ho!"


Good job! This article is complete, meaning that everything's in place.

Grimwold "Grim" Gloom is a warlock and the secondary antagonist of The 7D who works to take over Jollywood alongside his bossy wife Hildy. In "The Jollywood Jam" it's revealed that his great-great-great grandfather once ruled the kingdom.
His musical motif is "The Grim and Hildy Theme" (shared with Hildy).
Personality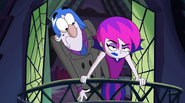 Grim is being portrayed in the show by not being bright in many situations, and that usually lead to many of his and Hildy's failures. Despite the fact that Hildy bosses him around he, in his heart, loves her and will do anything for her and Hildy wholeheartedly returns his feelings. In his spotlight episode "Grim the Genius", Grim attempts to become smart while trying to win back Hildy after another failed attempt to drive Queen Delightful out of her castle (and destroying their manor at the same time). He (donning a disguise) obtains the Smarty Pants Stone from Doc and Grim becomes intelligent. He then patched things up with Hildy after they together seized Delightful's throne, making Hildy queen. However, Grim's new-found smartness rejects Hildy's affections. After The 7D got back the Smarty Pants Stone from Grim, he realizes that he doesn't need it now that Hildy misses the old Grim and the two embrace (and being sent to the moon by Grumpy).
Grim's warm and childish nature is in stark contrast to his evil great-great-great-grandfather, who ruled Jollywood many years ago.
In "Itsy Bitsy Spider Fighters", it's revealed that Grim is afraid of spiders (despite the fact he was transformed into a six-foot spider himself by Hildy) as well as ladybugs.
Appearance
Grim's standard clothing consists of a gray four buttoned trench coat with light blue and green stars and a crescent moon on its left side and a black belt. Underneath the coat there is a purple collared shirt and blue tie. Rounding out his outfit are black pants and purple shoes with white soles. In some episodes, it is shown that he has white socks underneath his shoes. His hair is blue with a white lightning bolt and he has a large nose. Both he and Hildy have moles above their cheeks; Grim's on his right. As with Hildy, Grim retains some of his human characteristics when he transform into different forms.
Quotes
Absences
Season 1
Season 2
Trivia
In his prototype design, Grim was originally going to have green hair instead of blue, green shirt instead of purple, black tie instead of blue and green shoes instead of purple. (see right)
The evil warlock, who is also Grim's Great-Great-Great Grandfather Gloom strongly resembles Lord Grudgemunger, meaning he could possibly be Grim's great-great-great grandson and his "Aunt Gladys".
In "Finders Keepers", he appeared without Hildy, for the first and only time.
See also
References