"
Narrator: A dwarf of "many" words, and all of them...
Dopey: (whistles)
Narrator: Dopey is so cute, he makes puppies go "Awww...". His favorite food is whatever you're eating. Dopey has so many pets, a zoo keeper would be jealous. A skunk named...
Dopey: (whistles)
Narrator: A snake named...
Dopey: (hisses then whistles)
Narrator: And a bear named...
Dopey: (growls)
Narrator: Meet Dopey!
"

--From The 7D Mine Train app.
Dopey is one of the seven dwarfs who protect Jollywood in The 7D. He only communicates by whistling; however he can do various other sounds. He's also very good with animals.
Dopey's leitmotif is "The Dopey Song".
Appearance
Dopey wears an over-sized light blue sweater with a flower pinned to it, purple pants, and magenta shoes. His hat is red with light blue, turquoise, and yellow polka dots and a red puff at its top. Dopey's hair is colored burgundy-brown. He also has a set of freckles on each side of his face. In both episodes of the holiday-themed episode "Gingersnaps and Grumpy Snaps" and "Jollybells", he wears a green over-sized sweater instead of light blue, and a red and white scarf.
Personality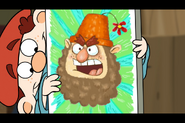 As usual in all previous Disney appearances, Dopey never talks. In The 7D, however, he whistles as a means of communication and he can understand his fellow dwarfs. He's also good at pantomiming. Dopey has a strong love of animals. In "Sneezin' Season" he is seen playing with Bob the squirrel and in "The 8th D" he helped a baby elephant by removing a rolled little hedgehog/porcupine that was on its foot and took him home, but later set him free after realizing that such animals belong in the wild.
Dopey is also exceptionally skilled in painting and drawing ("The Littlest Giants" and "Uncle Humidor") and performing as a magician ("Abraca-Dopey").
Unfortunately he seems to be quite unintelligent as his name suggests.
Trivia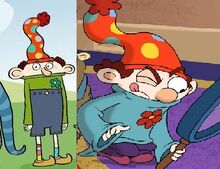 Of all the 7D, Dopey (along with Sneezy) has undergone the most changes to his design, they are:

Tall to average dwarf height
Light green sweater to light blue sweater
Blue flower to red flower
Long nose (similar to Sleepy's) to short ball like nose
Tall navy blue pants to purple pants under the sweater
Thicker eyebrows
Removal of colorful socks
Golden yellow pointy shoes to magenta shoes
Less colorful dots on his hat

He and Sneezy are the only ones of the 7D who don't have beards.
He is the only of the 7D that resembles his original Snow White and the Seven Dwarfs design.
He and Grumpy are the only ones of the 7D who have freckles.
Throughout the first season, Dopey can either bark, howl, growl, or whinny. However, in the second season episode "Funniest Haircut Day" he can do more animal sounds.
Dopey is the third of the 7D (after Sneezy and Grumpy) to have his childhood memories shown, in "Whose Voice is it Anyway?". Gizelle is the one who had raised Dopey from his infancy. This also suggests how Dopey has the ability to speak in many animal languages.
Dopey became a Dragon Scout First Class at the age of three. ("The Enchanted Forest Ranger"; he hold up his fingers to indicate the age)

Also in "The Enchanted Forest Ranger" Dopey can turn feral. He calls on many animals to rescue the 7D from Dirk Dumphrey.

It is revealed in "Water Ya Doin', Dopey?" that his nose can detect nearby sources of water.
It is shown in "Welcome to the Neighborhood" that he has a hand puppet of himself that he sleeps with.
Dopey has a tendency to get his friends lost -- as shown in "Mirror, Mirror", "Nicely Done and The 7D" and "Once in a Purple Moon" -- by either altering the appearance of the map or even eating it.
Dopey's Mexican dubber, Carlos Castro, also voices Sir Yipsalot.